Hawthorn

Class News
22nd July 2022
The whole school gathered together this week to examine the contents of a moth trap. Local volunteers set this up in the school gazebo overnight and the children were delighted to see what had been enticed in. The children of Nature Club were in charge of releasing the moths after the children had looked at them. Fascinating!
As this is the last entry of the school year, have a happy and safe summer holiday. Good luck in your new schools Year 4's. We will miss you.
The whole school gathered together this week to examine the contents of a moth trap. Local volunteers set this up in the school gazebo overnight and the children were delighted to see what had been enticed in. The children of Nature Club were in charge of releasing the moths after the children had looked at them. Fascinating!
As this is the last entry of the school year, have a happy and safe summer holiday. Good luck in your new schools Year 4's. We will miss you.
15th July 2022
What a busy week we have had! The children are enjoying Art Week. We have been looking at mark making and the history of it way back to Stone Age times. We have also been discovering modern mark making of our own. The children so far have investigated how to draw characters for illustrations and how to show emotions based on the characters from Tom Gates books. They have produced their own 3D sculptures using malleable materials and sketched these. The children loved the clay workshop with Victoria Houghton and have produced some amazing Indian elephants as you can see from the photos.
In Design Technology, the children have been finishing off their pencil cases. A colourful array of different designs have been produced. The children have learnt how to adapt their designs as they have gone along and have definitely improved their sewing skills. Well done all!
7th July 2022
This week the children have been brushing up on their coding skills and making some fantastic shapes. They have been practising how to draw using commands such as pen up and pen down and repeat commands. They were very proud of their creations.
1st July 2022
Hawthorn class have been developing their 'green fingers' this week. They have been looking at what life processes plants have and what they need to survive. The children placed plants around the school and deprived some of light, water and carbon dioxide and then monitored the progress of the plants via a class blog. As you can see from the results, some plants fared better than others!
The class also harvested our first crop of the season. The children took great delight in pulling radishes and then preparing them to eat. The few adventurous souls who tasted them agreed they were the tastiest radishes ever!
24th June 2022
This week the children had an additional trip to church. Rev. Alex helped the children to understand the link between the Holy Spirit and baptism. He explained why Holy water was used, the significance of the oil and why a candle is so important. Our baby Barry, (named by the children) was very well behaved and didn't cry. An interesting fact learnt by all was that Holy water has to be allowed to drain directly into soil. The drain in the ancient font in All Saints is connected in such a way to allow this to happen.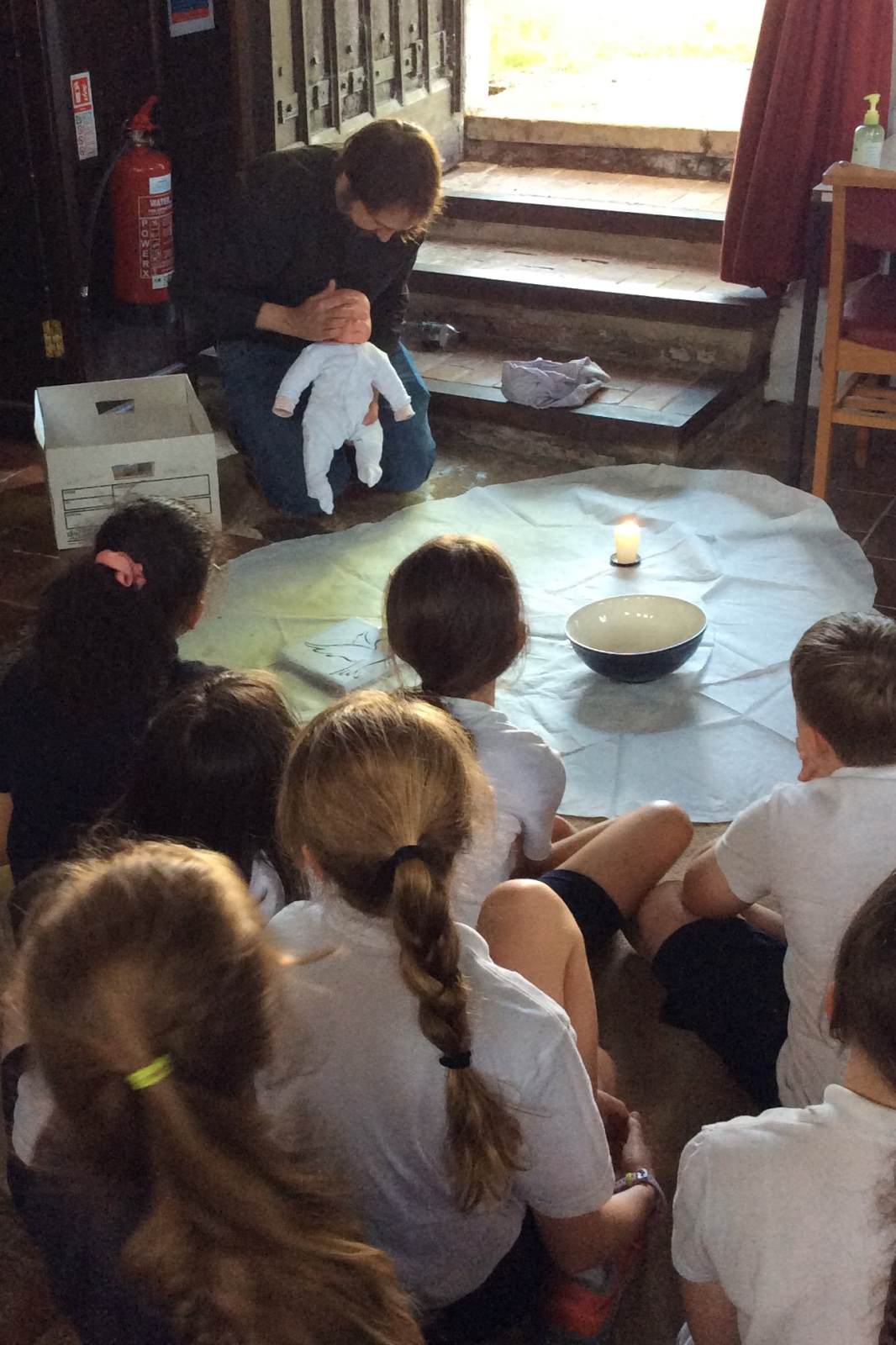 17th June 2022
Hawthorn class have been outside enjoying the sunshine this week. A big well done to our Quadkids Athletics teams who competed against other schools at Bedford Athletics Stadium. All had a wonderful time and tried their hardest. We couldn't ask for more.
The children also completed a maths challenge. How many shapes can you make inside a rectangle using a maximum of 10 strips of masking tape? Try it at home! Our highest score was 46.
10th June 2022
Both year groups in Hawthorn Class have been looking at time over the past few weeks. Here you can see some of the Year 3 children matching analogue descriptions to digital times.
The children have also been practicing their stitches in DT this week. This is all in preparation for the pencil cases that they will shortly be making. Watch this space for progress reports!
27th May 2022
Hawthorn class have been preparing for the Queen's Jubilee. Here you see them proudly displaying their portraits of Her Majesty that they have carefully created using watercolours. They look magnificent – I think Her Majesty would be very proud.
The children were also invited to decorate plant pots with suitable Royal pictures. They have created these in acrylic paints. The pots will be decorating Sutton Village Hall for the Jubilee celebrations, so if you are passing, pop in and take a look.
20th May 2022
This week, eight children from the class travelled to Blunham Cricket Club to take part in an Inter-schools Kwik Cricket competition. Although our team did not win the competition overall, the children did the school proud and gave it their all. Well done everyone!
Back in school, the children completed an investigation to see how the shadow of an object is affected when a light source is moved and placed at different distances from the object. Here you can see them very much in action.
12th May 2022
Hawthorn Class have been making the most of the Spring sunshine this week as they investigated Light & Shadows. The children first explored what a shadow was and how it was created. They also created sundials and explored how shadows 'move' throughout the course of the day and why this is not a reliable method of telling the time.
6th May 2022
Spring has definitely sprung. The Year 3 & 4 Nature Club members helped set up a small pond with tadpoles in this week. Mrs Ream kindly guided the children through the process of how to create a suitable habit for our visitors and how to care for them whilst they are with us. We will keep you updated as to how they are getting on.
Hawthorn Class thoroughly enjoyed their two music workshops this week which had a bit of a difference. In the first session the children created music coding in Scratch. Each child had 3 different sprites who became their band members. The band members performed a gig at the end!
Our second session saw the children use their knowledge of conduction to create music using a makey makey. Electrical circuits were used to create music. The children used their own conductivity to create these circuits. As you can tell from the photos they all thoroughly enjoyed themselves.
29th April 2022
Hawthorn class have started a new topic this half term and are asking, What is it like to follow God? The children this week looked at the construction of the Bible and what books make up this holy text. Did you know that there are 66 books in total containing a variety of texts including poems, songs and letters?
22nd April 2022
Hawthorn Class are back in the swing of being at school after the Easter break. This half term we will be looking at Light & Shadow in our topic work.
The children made the most of the sunshine this week and have been learning how to play French cricket. There were definitely some naturals in the class as you can see!
1st April 2022
We have had an incredibly busy week in Hawthorn class, blowing away the myth that nothing happens in the final week of term!
The children have now completed their DT projects and each have created an animal with a moving mouth. As you can see from the photographs, the project has been a great success. The children managed to problem solve as they created their mechanisms and then added the finishing touches including a lick of paint.
As Spring is now here and the clocks have changed, we celebrated by planting some of our seeds, courtesy of Mrs Hollyman. Each child has taken home some snap dragon seeds to grow at home. Hopefully, the Sutton area will be full with very contented bees this summer.
We need to give FOSS a big 'thank you' for providing us with some large garden pebbles. In the photograph you can see the children busily decorating them. They are creating story stones to take home. Each of their pebbles has an important scene from the Easter story on it which the children will use to retell the Easter story to family members and friends this Easter.
As if all of this wasn't enough, we have also been treated to the end of term Rock Steady concert. Our two bands were amazing as they performed to a packed house. Well done to all of you who were involved!
25th March 2022
We have been making the most of the glorious spring sunshine this week. Year 3 have been working on perimeter in maths. They were able to take their knowledge from the classroom to the playground where they calculated the perimeter in metres.
As part of our work on the Romans, we investigated what foods the Romans had introduced to the country. Here you can see the children enjoying a Roman Banquet where they tried the new tastes and flavours of olive oil & vinegar, grapes, dates and olives.
18th March 2022
As part as our whole school focus on Ukraine, the children have produced this piece of artwork. The children looked at a photo mosaic that we have in of the school. They then recreated the colours of the Ukrainian flag with miniature drawings in blue and yellow of people and things that they love or enjoy. Then the children made sunflowers. Each one has a special wish about the war in its centre.
.
We are coming to the end of our work on festivals. This week the children looked at Sikh festivals. They looked at Vaisakhi which marks the Punjab New Year and when Sikhism was founded. This is a relatively modern festival as the religion is only about 320 years old. Here you see them dramatizing the story of Guru Gobind Singh.
11th March 2022
This week the children have been focusing a little more on their DT projects. We have started to look at the mechanisms to make the mouths on the models move. The children are starting to design the mechanism that will suit their models best, depending on what movement they wish to create.
4th March 2022
This week Hawthorn class have been composing music. They were shown the trailer to a James Bond film without the sound and they had to compose music to match the pictures & emotions of the film. There was some fantastic music making that afternoon.
The children also enjoyed the World Book Day activities. Here they all are kitted out for the day!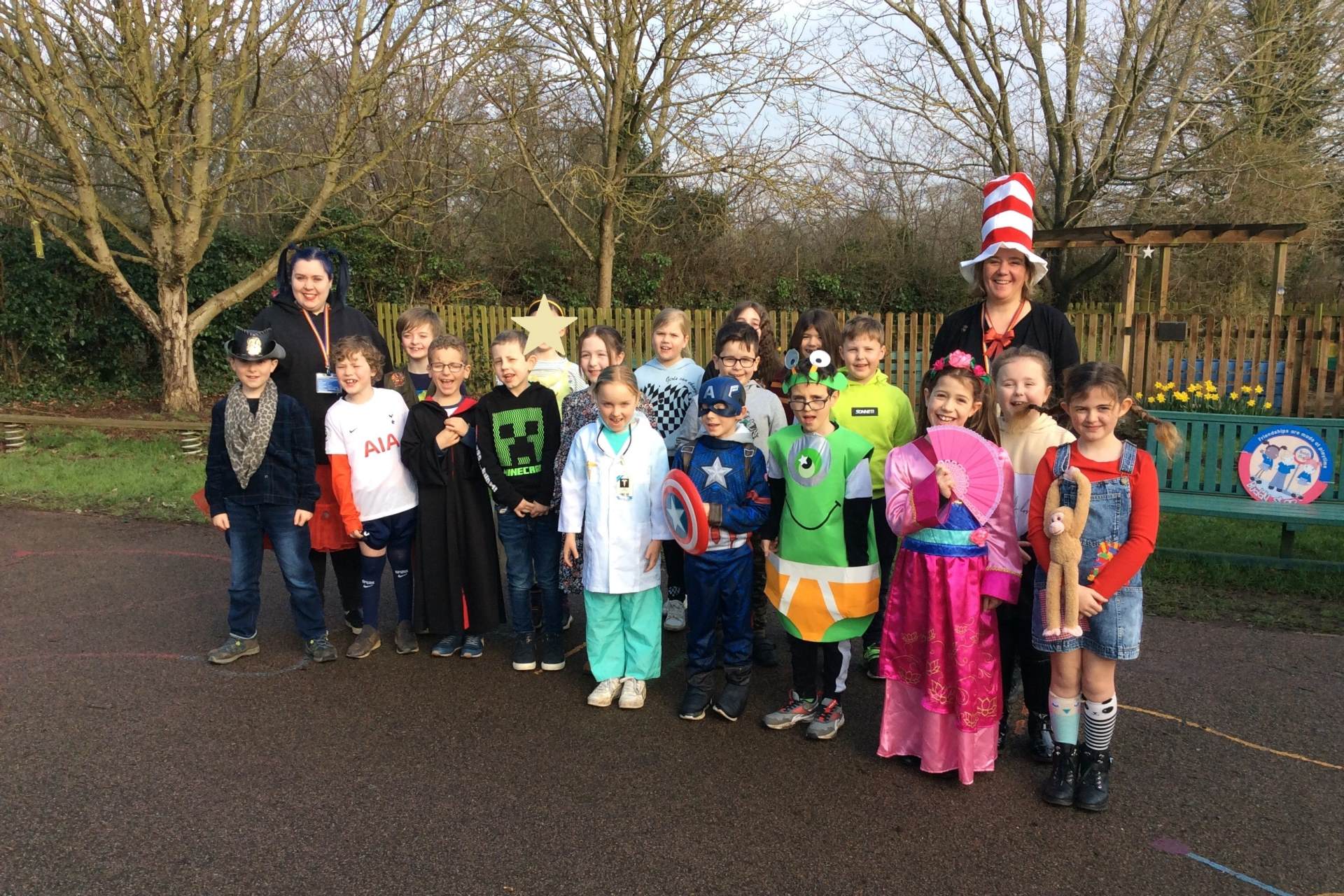 25th February 2022
Hawthorn class have returned to school after the break with plenty of energy. In the photo you can see them working hard on their Design & Technology project. The pets are coming on a treat. The next part of the project will be to construct the head and think about how they are going to make the mouth of their pet move.
We have also completed some fantastic kennings this week which have been typed up and are being prepared for a classroom display.
11th February 2022
Hawthorn class have looked at various ways to help cope with difficult situations this week as it is Children's Mental Health week. They have refreshed their learning of 'THINK before you speak' as well as thought about who they can talk to if they have a problem.
On Safer Internet Day, the children helped Bob the alien to navigate gaming. They then made videos of what they had learnt to share with the class.
4th February 2022
This week the children have been working hard in RE and science. They continued their work on Diwali and retold the story of Rama & Sita using puppets. In science, we have looked at the structure of soil and whether it is permeable or not. We have also recreated the rock cycle with the help of chocolate. Yummy!
28th January 2022
The week began with a lovely treat for the children courtesy of FOSS. The Theatre of Widdershins performed The Elves and the Shoemaker for the them. They really enjoyed this and there was plenty of audience participation too.
In Design & Technology this week, the children began the first stage of their models. A theme of pets has been chosen by the class. The challenge is to create a realistic looking animal which has a mouth that moves. We will keep you updated!
In RE the children have started to explore the importance of light in religion. This week we began looking at the story of Rama & Sita and Diwali, the Festival of Light. The children created Diwali lamps from clay.
21st January 2022
We have had a very busy time in Hawthorn Class this week. In maths, the children have been brushing up on their multiplication and division skills. This has including some outdoor maths activities applying what they have learnt. In PE, the children are working hard in their gym lessons with Mr Passman. As you can see, they are showing great flexibility!
14th January 2022
This week the children have completed their training as story seekers. They have spent some time retelling stories and adding in details and descriptions both with drama and by retelling stories aloud. They have really made their favourite stories come alive. Here they are practicing their stories ready to perform to the class.
17th December 2021
Hawthorn class have had a very busy week, full of fun, achievements and treats.
The children proudly showed off their lovely Christmas cards that they have made for loved ones. Everyone chose their own colour scheme and the results are stunning.
This week has seen the end of the Sutton Challenge with medals being awarded. For completing at least 4 of the 12 challenges a big well done to Lara, Ella J, Tommy and Hope. For achieving at least 8 of the 12 challenges, silver medals were awarded to Maela, Robyn, Luka, Jacob, Nathan, Mevin and Lillie. Huge congratulations to Oscar F, Isla, Charlotte, Ella B, Oliver, Lilian and Joel on achieving gold and completing all of the challenges. Some very well deserved medals.
The children have also enjoyed a COVID safe Christmas dinner. Crackers were pulled and jokes exchanged as roast turkey with all the trimmings was consumed.
Christingles were made on Wednesday in time for the Christingle service on Thursday. The children all enjoyed this special activity. A big thank you to Mrs Kerridge for helping us.
And the week didn't end there! On Thursday the children enjoyed a bikeability session. They completed level one of this training which helps the children on their way to riding bikes safely on the road.
Happy Christmas everyone!
10th December 2021
Hawthorn class have spent this week sharing their achievements in the Sutton Challenge. The response has been amazing and has totally blown us away. The children have presented their achievements in various ways including some excellent PowerPoints, photos taken at home, scrap books and diaries – they have been a joy to behold.
3rd December 2021
On Tuesday morning Hawthorn class were lucky to take part in a coding workshop. In first half of the workshop the children designed and built robots from scratch. After playtime the children programmed the robots using coding, which they then downloaded onto their robots. The class then had great fun playing with their robots. The workshop leader was very impressed with the children's knowledge and said they worked at level he normally sees in Year 5 children! Well done Hawthorn!
On Thursday afternoon in History we braved the cold and headed over into the forest area. The children had great fun building miniature huts like the ones they have been learning about from Star Carr and Skara Brae. They worked in small groups using natural materials to build them. As you can see from the photos there was some very creative designs.
26th November 2021
This week Hawthorn Class have begun their Story Seekers mission. The children are collecting stories and re-enacting them, thinking about the common features of stories belonging to a certain genre. They are using drama to help them become the characters in a story. They have also created posters of the common elements in stories that they have read.
The children also had fun refreshing themselves on how to use the 'Flash & Bash' boards at school. They took part in a very competitive workshop where a great deal of agility was shown by all.
19th November 2021
Introducing Hawthorn Classes Kipsy caterpillar.
Kipsy lives under an oak tree in the corner of our classroom and pops out on a regular basis to discuss emotions with the children. We have explored many different emotions with Kipsy including shyness, being embarrassed, feeling accepted and resilience.
Odd Socks Day was on Monday this week. Children and teachers alike, wore odd socks to school for the day. This was to celebrate the differences between people and led us nicely in to this week's anti-bullying focus of 'One Kind Word.'
The children have explored various issues throughout the week. They have revisited what bullying might look like and what they should do if they think they are being bullied or they know of someone who is being bullied.
The children created a display with reminders of kind phrases that they could use to help make someone's day a positive experience.
12th November 2021
This week in RE the children started a new topic – God, trinity & Incarnation. The children started by looking at a cup of water outside and then scribing words that they associate with water including its uses. On returning to the classroom, they then linked this with the many appearances that water makes in both the Old & the New Testaments.
In dance this week, the children created some impressive routines with Mr Passman. Here you can see them in action.
5th November 2021
The Year 4 children have this week being learning how to become play leaders. Mr Blunt came from the Schools Partnership to instruct the children. Now they are trained, the children will lead activities for the whole school at lunch times.
22nd October 2021
After a full and exciting week, the children are looking forward to half term. On Tuesday, 10 children travelled to St Andrew's School in Biggleswade to take part in the first intra-schools team challenge since COVID began. As you can imagine, there was great excitement! The children took part in a variety of games honing their tag rugby skills.
On Thursday, we welcomed Mr Blunt from the Schools Partnership to school. The whole class got slightly muddy competing in ball scoring games but had a wonderful time.
In science this week, the children have been measuring their own lung capacity. Don't forget to ask your child how they did this and what it was.
Happy Half Term everyone!
15th October 2021
Science
8th October 2021
COP26
Hawthorn Class have been looking at some of the issues that will be discussed at the COP26 conference in Glasgow this year.
The children will next week meet the local MP Ricard Fuller to explain the issues that they would like action on the most.
During the course of the week, the children have looked at the effects on climate change from what we eat. Did you know that 1/3rd of the world's CO2 emissions come from food production? Hawthorn Class also learnt that the most CO2 emissions come from people wanting to eat meat, and particularly from beef and lamb production. We had a full discussion on what we could do to help this. We talked about the word 'flexitarian' – this means you eat a varied diet but eat meat less often.
We looked at the use of plastic in the world today. Did you know that every year 400 million tonnes of plastic is produced? And every year over 8 million tonnes of plastic ends up in our oceans?!
They also looked at the food miles that our food travels before we eat it. They were shocked at some of the distances that were travelled. If you eat a banana grown in Indonesia, it has travelled 7261 miles to get to you. To travel, it will have caused emissions.
We discussed what seasonal means, and how we can help to reduce CO2 emissions by buying food that has been grown in this country or locally.
1st October 2021
Hawthorn Class have had a busy week. In art, the children have been looking at how to include movement in their artwork. They have drawn a variety of objects that move, traced them and then reproduced this several times over their original drawings to create the illusion of movement. They looked at pieces of art by Giacomo Balla & Natalia Sergeevna Goncharova amongst others, to help them.
17th September 2021
Hawthorn Class have been brushing up on their ball skills with Mr Passman this week. He was very impressed with their listening skills and technique. Well done all!
The highlight of the week (other than Ofsted) had to be the first J-sax lesson. The pictures speak for themselves as the children opened their instrument cases for the first time. The children were fantastic, even managing to play a tune at the end of their 1st lesson – watch this space!
10th September 2021
Hawthorn Class have had a very successful first week of term! The new members of the class have settled well and are getting used to the new ways in their new class. Amongst the week's activities, the children have made some fabulous birthday cards to give to one another when the day is right. They have also worked hard at created our class prayer book testing their ICT skills.